Date of article: 02-Dec-14
Article By: Nina Hathway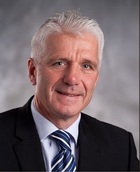 On the controversial question of the amount of time that should be allocated to home visits, he says:"We don't believe quality care can be delivered in short visits, therefore our minimum visit is ideally 60 minutes, which allows us to deliver care with dignity and go the extra mile to enhance our clients' quality of life. We are also absolutely committed to supporting our clients with the same care staff."
To date, Mr Deary has had an extremely successful career as a franchisee, firstly with McDonald's for more than a decade, winning numerous awards including the British Franchise Association's franchisee of the fear and a Golden Arches Award for top 30 franchisees in the world.
This all changed in 2006 when he "bought a care home as I wanted to run a business that made a difference every day – the unique combination of franchising and care made home care franchising a fantastic opportunity to do something truly rewarding that makes a difference every day."
On a personal level, he had also experienced the difficulties of finding good care for his immediate family members first-hand. From there on, Mr Deary approached US franchisor Right at Home to set up the UK arm of the business, and was duly appointed in 2010.
Cultural differences
According to Mr Deary, there is one significant difference between care offered in America and the UK. He says: "The US operation is different from most UK care services in that it includes companionship – as people get older they can become increasingly isolated from the community and our companionship services really can make a difference."
By companionship, he means helping to run errands, reading and generally doing things that add "life to people's years". As he puts it: "Our preferred minimum care visit is one hour upwards so that we can provide quality care; we are not task-based but go that extra mile to look after our valued clients; we are absolutely committed to supporting our clients with the same care staff.
"However, the main difference is our carefully chosen people, we absolutely put our franchisees, staff and clients first as we believe we are the right people, doing the right things, the right way for the right reasons."
Growth and staffing
Right at Home's growth has been steady over the last few years. The company aims to open its 30th office in the UK in the first quarter next year, and now has more than 600 care staff delivering care to more than one thousand clients every day. "We will not grow too fast we have a measured growth philosophy of six to eight new offices per year in order to ensure we bring on board only the highest quality franchisees absolutely committed to providing quality care at home to their valued clients," says Mr Deary.
Part of the edge, he reckons Right at Home has, is due to its tried and tested recruitment processes. "We have numerous avenues for recruiting quality care staff and work with industry leading consultants on our recruitment processes to ensure we are leading edge in this field. "We have developed leading edge training and career development models that are being rolled out to our offices to ensure our caregivers can make a difference every day and that they have the training necessary to provide the highest quality care available. One question that we encourage all recruiters to ask themselves when interviewing is: 'Would you allow that person to work in your mother's home?"
As testament to this policy, turnover of care givers at Right at Home is very low. As Mr Deary explains: "Of course, they have to like the work in the first place, but if they do then they stay with us."
For Mr Deary, some of the problems with home care today is caused by local authorities having to commission short task-based visits that all too often result in uneven standards. Most of Right at Home's work is privately funded as it is dedicated to providing the highest standards, but the company will take on council work, but "only if it fits our criteria, that is the client is allowed more than one hour of care."
Franchisees wanted
Of course, any expanding franchise business has a constant need for new people to run the new offices. Is experience in the home care sector necessary? Mr Deary thinks not: "You definitely don't need experience in the sector as we provide all the training and support necessary to be a success.
"What you do need is a real desire to make a difference in your local community together with an empathy towards supporting vulnerable adults and the basic skills needed to run a people-orientated business. We will provide you with both the care and business support to enable you to run a successful home care company."
His instincts are obviously spot on as in the three or so years the company has been running, there have been no failures in terms of the franchisees appointed."
The reasons for Right at Home's UK success are simple. "We put our franchisees, or owners as we prefer to call them, first and above our own profit. We give them great training and support and believe fully engaged and supported owners will deliver the very best quality care with the objective of returning quality into home care," says Mr Deary.
"Our plans are to have national coverage across the UK but we will not rush at our growth, we only grow with the right Franchise Partners who are totally committed to delivering top quality care at home in their local community. We want to be seen as the franchise of choice in the care sector and the company of choice for quality home care in the local community."
Interesting facts
First job: During college vacations I worked as a refuse collector, building labourer and postman. They taught me the importance of hard work and that it's not how good you are, but how good you want to be.
Favourite book: They Did You Can" by Michael Finnigan – it's about mental strength and making sure you achieve on 100 per cent of your potential
Favourite film: Top Gun
Favourite piece of music: The Gambler by Kenny Rogers and Something Inside so Strong by Labbi Sifre
Best present received: Adventure weekend in the Lake District given to me by my wife and children
Last holiday: Vietnam – wonderful people, fascinating country and culture. It shows you don't have to have lots of worldly goods to be happy
Read the full article.